Where Are We?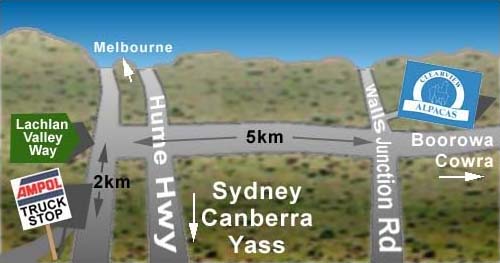 Please call 0417 445 831 BEFORE visiting
With sealed road access, the property is just 5 km north of the Hume highway along Lachlan Valley Way: the highway B-81 north to Boorowa and Cowra. "ARGYLE PARK" is on the corner of this highway and the sealed Walls Junction Road. Look for the large blue 'ALPACAS' signs on the western side of the highway as you approach Walls Junction Road in either direction. The double electric gates, marked "ARGYLE PARK" are 300 metres along Walls Junction Road on the RIGHT. (There is another alpaca property on the left.)
Press the button on the post outside the double gates to activate the solar-powered gates; they close automatically.
Argyle Park is 10 minutes from Yass, an easy 50 minute drive from Canberra (exit the Barton Highway toward Melbourne, and turn right into Lachlan Valley Way B81 just past the big Yass Hume Highway (KFC/McD/Caltex) rest stop complex.
Allow 3.5 hours drive from Sydney; 5.5 hours from Melbourne.